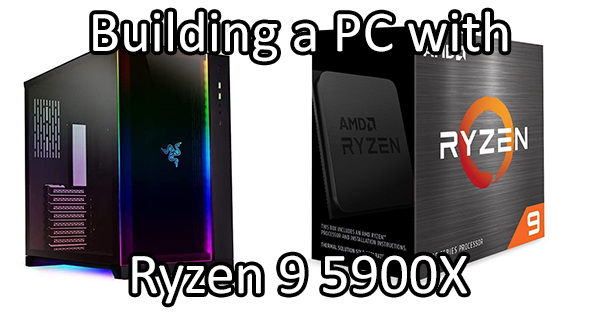 With more cores and threads than most games know what to do with, the Ryzen 9 5900X sits as an ideal choice for those looking to build a game streaming or other live streaming rig.
A CPU That's "Only" $549!
I want to take you back briefly to 2017. Intel was ruling the CPU market, and in June had just started to release a range of Skylake-X high-end desktop CPUs. Within that range, we had the i9-7920X, a 12-core/24-thread CPU with a 2.9GHz base clock and 4.3GHz boost. In August of that year, it released with a $1189 price tag.
3 years later, we have the Ryzen 9 5900X. It not only blows the socks off thecurrentgeneration of Intel CPUs, but also does it for less than half the price of the i9-7920X from a few years ago.
Competition is great!
In all seriousness, let's take a look at the specifications to see what we're getting here.
Cores/Threads:12/24
Base Clock:3.7GHz
Boost Clock:4.8GHz
L3 Cache:64MB
TDP:105W
Just consider this for a moment. With a 4.8GHz boost, as well as an IPC improvement, the Ryzen 9 5900X looks set to not only be a monster for gaming but also productivity tasks too. Before making a much larger jump in price up to the 16-core Ryzen 9 5950X, this chip is only $100 more than the Ryzen 7 5800X; this looks like a smart business move by AMD, to tempt more of us up onto this CPU.
Having the larger L3 cache, the slightly higher boost, and more cores all make this look like a no-brainer for streamers and other workstation users (especially with so many of us still working from home!).
So, with that in mind, let's take a look at some other parts to get a great streaming build!
The Build
When you ask most people about 360mm AIO water cooling, the general rule of thumb is they tend to not provide a whole lot of extra cooling over a smaller 280mm radiator. Although this tends to be generally accurate, the 360mm models stand alone in one crucial aspect: noise level. Having the extra surface area for heat dissipation means a lot of the time your fans will be spinning at lower RPM, which mean less fan noise to potentially be picked up on a microphone.
Plus, it's RGB; who doesn't want that in a streaming rig?!
Although a lot of the games you might be streaming probably won't stress the RTX 3080 to its maximum (although Cyberpunk 2077 might have words…), having some GPU overhead is great for if you want to use the GPU horsepower for encoding your stream or just for other productivity tasks like editing VODs, making/rendering 3D overlay graphics, etc.
This is a solid kit of 32GB RAM for the build! For high-tier streaming, this is pretty much our minimum requirement. These aren't as flashy as some RGB kits, but this is one of the best-priced 32GB kits which run at 3600MHz for our choice of motherboard.
额定板价格最高的国家之一,这s is a solid X570 board capable of overclocking. This is a great options based on the other parts, while still providing extra capacity for more upgrades down the line.
Acting as our speedy boot drive and storage for non-gaming software comes the solid MP33 from TeamGroup. Although this isn't a PCIe 4.0 drive, this still has the speed to give the system a boost in loading times.
Unlike the drive above, this beastisa PCIe 4.0 drive. With read speeds of up to 4,950MB/s and write not far behind at up to 4,250MB/s, this is a monster of a drive. Use this primarily for storage for your main game(s) and streaming software.
作为一个长期的存储解决方案,这是the 4TB version of the popular BarraCuda drive from Seagate. This is essentially storage for any big media files and archived videos where you won't need the blistering speeds of either of the M.2 drives.
We're going with a beefy power supply here with the 1000W Revolt X. This is a fully modular, Platinum-rated PSU, and it accordingly has superb efficiency for power delivery. It also has great built-in protection, making it a good choice for an overclocked build.
This Razer-branded edition comes with yet more RGB goodness for finishing off your build. There's also a well-thought-out internal design to setup your build exactly how you want.
Total Ryzen 9 5900X Build Cost: $2515
A small build this is not!
This build does such a great job at being a solid PC just for gaming, but that's not where our ambition ends. It has more than enough horsepower to handle streaming (and other productivity tasks like video editing, too).
This is a great build for someone who's looking for a PC that can pretty much do it all in one case!
With the Ryzen 9 5900X and an RTX 3080, you have a bit of a beastly build here! Games, streaming… this can do it all quite happily.
---
Go Forth and Build!
There are extras that you might need to finish off this Ryzen 9 5900X build:
A copy of Windows. If you are a student or work for a big business, you might be able to get a copy for free or at a significantly lower cost. If not, we recommend Windows 10 ondisc ($90)orUSB ($120).
An optical drive—critical if you are wanting to install Windows 10 via disc. Good thing here is DVD-RW drives are cheap these days (here's one for $21).
We also have general recommendations for:
If you want to see other builds with higher performance, check out the main page atbeplay软件.
There you have it—a great game streaming build based around the Ryzen 9 5900X for you to to sink your wallet into!
If you have any questions or suggestions about this build, then let us know in the comments.